The You Trust Ltd
Vetted and approved by Trading Standards
Monitored for customer service
Audited by a Trading Standards professional
Qualified, insured & reference checked
Member Since:
January 2017
Address:
South Wing, Admiral House
43, High Street
Fareham
Hampshire
PO16 7BQ

Distance:
N/A miles from your postcode
Primary Trade:
Care at Home (Hampshire area)
Our Accreditations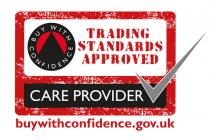 Buy With Confidence Care Provider
Our Customer Feedback
How would you rate the quality of the goods/work carried out?
How would you rate the level of customer service you received?
How would you rate the value for money?
Overall Rating:
Customer Comments
No feedbacks found.